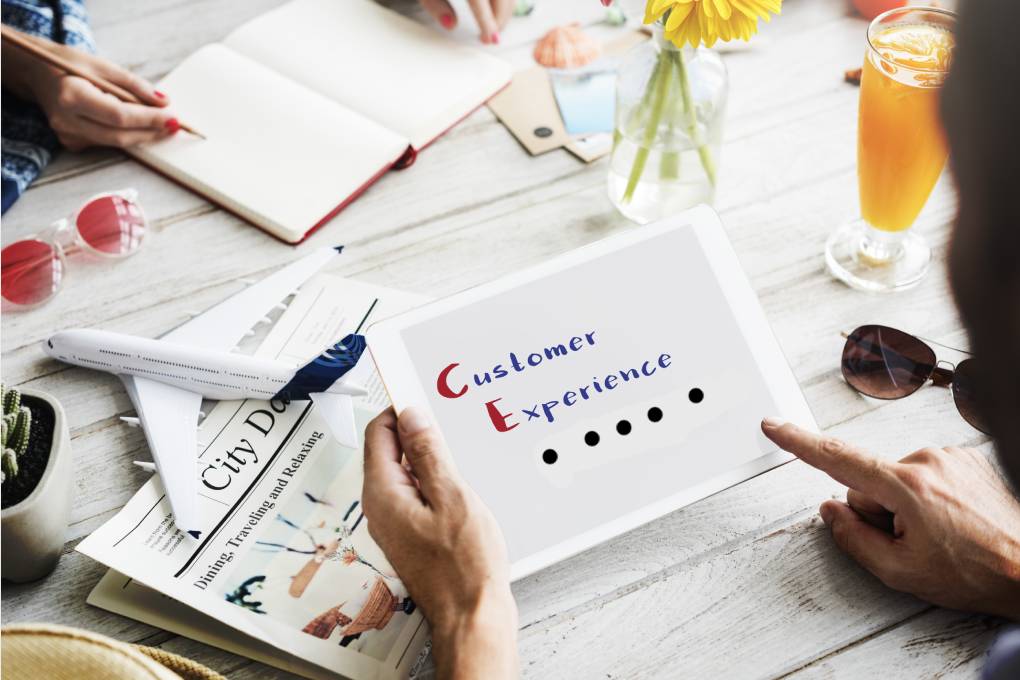 The experience client has become the main factor of brand differentiation, above the price or the product. Leading digital-native companies have changed expectations. Customers expect personalized, contextual, real-time experiences through any point of contact (social media, web, mobile, app, SMS …), channel (on / off), and device. 
And this translates into an impact on the income statement: studies show that a good CX (customer experience) brings a return of $ 3 for every $ 1 invested, and, on the contrary, a bad customer experience can cost up to 8% of the annual income. For this reason, it is critical to work on the constant improvement and innovation of the CX.
The Challenges Of Marketing Teams
But getting a good customer experience is not easy, and marketing teams face many challenges:
They must evolve towards a customer-centric approach, creating memorable experiences. We can help you design and implement personalized experiences on any channel in real-time and at scale.

The lack of adequate and highly adopted marketing technology leads them to have to perform too many manual tasks and not be able to scale and be highly dependent on IT and partners, reducing agility and reaction time. 

The explosion of data and analytics tools is, on the one hand, an ally. Still, the key is exploiting data, extracting insights, and designing optimal experiences.

Likewise, companies need to be more efficient, reinventing their operating model – and that means transforming the way they think and work, focusing on agility, and growing and optimizing. 
And also, as Peter Drucker said, "what can be measured, can be managed." The measurement of the customer experience is a continuous and highly relevant process because it will allow us to extract "insights" from customers that will enable us to establish improvement actions and, in turn, know the starting point, identify the interaction points more critical and where we must act first and monitor the evolution of the customer experience once we have implemented initiatives.
Where Do We Start? Which Are The Steps To Follow?
Please focus on the customer to discover their perceptions after each interaction with your brand and your business and thus understand what they live in those moments. We must get the answers to questions such as what needs my clients have? What problems can I solve? How do they use my products or services? How do you feel when you interact with my company at any point of contact? 

Map all customer interactions with your brand. It is essential to identify all the contact points between the customer and your business, from a visit to physical energy, a call to customer service, a welcome email or text message, etc. Anything that is not reflected will be a blind area in the customer experience. 

Select the models and tools to measure at each point of interaction. It is advisable to use a mixed model of qualitative and quantitative tools to understand what customers are experiencing to improve the experience, the number, and the story. 

Start measuring for the most critical interactions. It is not necessary to measure everything at once. Start with simple tools such as a survey on the interactions that you have identified as the most critical because you have customer complaints or claims. 
What Models, Tools, And Indicators Can We Use To Measure Interactions? 
Ideally, have a mixed approach of quantitative and qualitative tools. 
Quantitative tools allow us to apply statistics to extract insights from our clients. They are replicable and predictive. The most widespread is the survey, which is easy to implement in many channels and, if carried out with reasonable regularity, allows us to see patterns and trends. Surveys allow us to measure some of the most relevant customer experience indicators : 
The NPS (Net Promoter Score) is one of the most widely used indicators today. It measures customer loyalty, based on their recommendations to family and friends, and is rated on a scale between 0 (Very unlikely) and 10 (I would recommend it). According to the results, customers are classified into Promoters (those who assign 9 or 10 points and are considered ambassadors of the company), Liabilities (if they give 7 or 8 points, they are satisfied but not enthusiastic customers), and Detractors (assign 6 points or less, considered dissatisfied customers). The percentage of detractors is the percentage of promoters who reach the Net Promoter Score, ranging from a minimum of -100 to 100. If the result is negative, it is considered unfavorable; if it is positive, it is regarded as a relatively acceptable level of brand loyalty and fidelity. In practice, values ​​between 30 and 60 are considered very positive.
The CES (Customer Effort Score)

evaluates how much effort it takes to achieve his goal each time he interacts with a company, "how easy it has been to achieve what he needed from this company." The objective is to minimize the client's effort when interacting with the brand. It is important to know data such as the average resolution time when calling customer service, web loading time, etc. 

The CSAT (Customer Satisfaction Score )

measures the general satisfaction of the customer with the company's product or service, scoring on a scale of 1 to 5, where one represents "Very dissatisfied," and five represents "Very satisfied."

The Customer Sentiment measures the client's emotion regarding our company. It is achieved mainly by listening to the client at contact points such as social networks or the contact center. 
Customer Engagement

evaluates trade relations between company and client in the long run, in a strategic context. It is essential to measure whether specific actions focused on maximizing conversions may negatively affect repeating such modifications over time with the client.
In addition to knowing the voice of the customer quantitatively through the surveys, it is interesting to complement it with the data and internal metrics that are had from the customer within the company: from waiting times, response times, access rates to your channels of contact, reasons for calls to the Contact Centers, or reasons for visiting the physical point, grounds for cancellation, etc. and with qualitative tools such as focus groups, in-depth interviews, etc. 
The constant measurement of the Customer Experience is key to continuous improvement and achieving that dream of every marketer that is "turning your customers into fans of the brand." Therefore it is essential to focus on designing a Customer Experience program and keep learning, testing, and optimizing. 
Also Read: Vertical Organization Chart Of A Company: When It Is Convenient