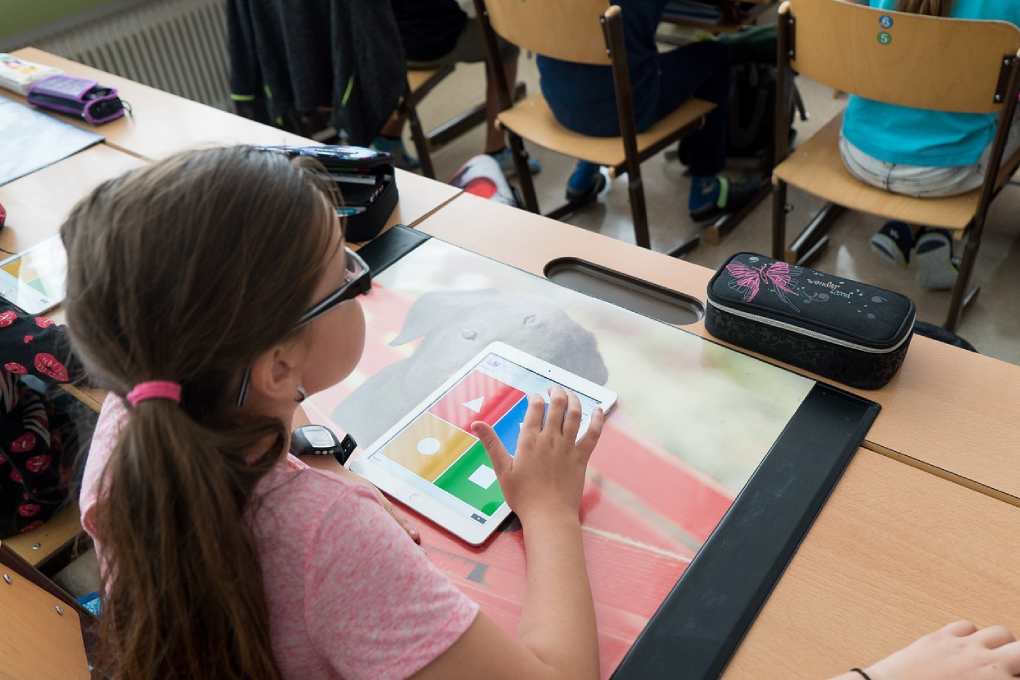 Apple has steadily expanded its tablet portfolio in recent years. There is a suitable iPad for every type of user. Here we clarify which iPads are particularly ideal for School.
Apple currently has five different iPad models on offer. In principle, all of them are suitable for School. The various iPads differ primarily in their features and the associated price. One of the most important features for students is that not all iPads currently available offer pen and keyboard support. We'll show you which iPads are particularly suitable for School.
Apple iPad: Best iPad For School?
We'll start right away with a classic: the Apple iPad (9th generation). Here we are dealing with the cheapest of all models. It quickly becomes apparent that this is not without reason. Because Apple has chosen a clear target group for the entry-level tablet: schoolchildren. With the relatively low price for an iPad, you stay below the limit that some international education ministries have set for the nationwide acquisition of tablets for teaching.
For an MSRP of 379 euros or more, you can get Apple's classic iPad, now in its 9th generation. Also included are a 10.2-inch retina display, Touch ID, and the Apple A13. The latter is a bit old but still provides more than enough power for everyday school life. Particularly practical: a keyboard can be attached to the docking connector on the side. There is also support for the first-generation Apple Pencil. It is still perfect but does without the practical magnetic connection of the successor.
iPad Air: A Little More Of Everything, Please
This is where the iPad Air comes in. The fourth and thus most current generation of the well-known iPad series also has everything you can expect from an iPad for School – and much more. For example, Apple relies on a 10.9-inch Retina display, the Apple A14, and the second-generation Apple Pencil support. The overall package is, therefore, a very successful one for a price of 649 euros RRP.
Apple has adapted the look of this model to the design language known from the Pro models. For example, the home button is missing here. Touch ID has been relocated to the power button on the side. Face-ID is still only reserved for the Pro models and unfortunately did not make it into the iPad Air 4 Wifi (here with a contract). But you can look forward to USB Type-C. Apple does without the outdated Lightning connector here. This allows you more connection variety, which can be easily expanded with adapters.
Particularly interesting for schoolchildren: the current iPad Air offers support for the second-generation Apple Pencil and the Magic Keyboard. This means that the tablet can be expanded into a complete replacement for a notebook – at least as far as the operating options are concerned. At 339 euros RRP, however, this costs a large surcharge. Not all students can afford that off the cuff. You can get away a bit cheaper with the Smart Keyboard Folio: After all, it is available for an RRP of 199 euros.
iPad Mini: Small iPad For School
The smallest Apple tablet currently on offer is especially interesting for students looking for an iPad that is as compact as possible. Another interesting device is the 6th generation iPad mini. But that's not all that speaks in favor of the iPad mini: the 8.3-inch retina display is stylish and beautifully bright, the Apple A15 is one of the fastest processors on the tablet market, and the design, including USB type C connection and Touch ID, is up to date.
It is also lovely that the iPad mini also supports the Apple Pencil 2. This makes it particularly easy to draw, mark and write. When you are done with it, dock the pen on the side of your iPad. This works magnetically and provides your Apple Pencil with new energy at the same time. Unfortunately, there is no official Apple keyboard case for the iPad mini. The small tablet doesn't have enough space for that. In the worst-case scenario, you would have to switch to a Bluetooth keyboard.
Conclusion: There Is Something For Everyone
This is good news: If you are a student looking for a suitable tablet for your classroom, you have a wide selection at Apple. For most of them, the classic iPad should be the right choice. Here you get solid features and keyboard and pen support for a fair price. By the way: If you are looking for the best tablet for students, we also have a selection for you (link).
For all students who want a little more premium feeling, the iPad Air is a suitable alternative. That comes with a better display, a more robust processor, USB Type-C, and Apple Pencil 2 support. The iPad mini turns out to be an exotic item in our selection: Without official keyboard support, it could slip through the selection screen for many students. You should get it here if you can do without it and are looking for an exceptionally compact iPad.
Also Read: Apple News 2022: Will This Tech Revolution Change Our Lives?