5 Tips For Communicating In The Home Office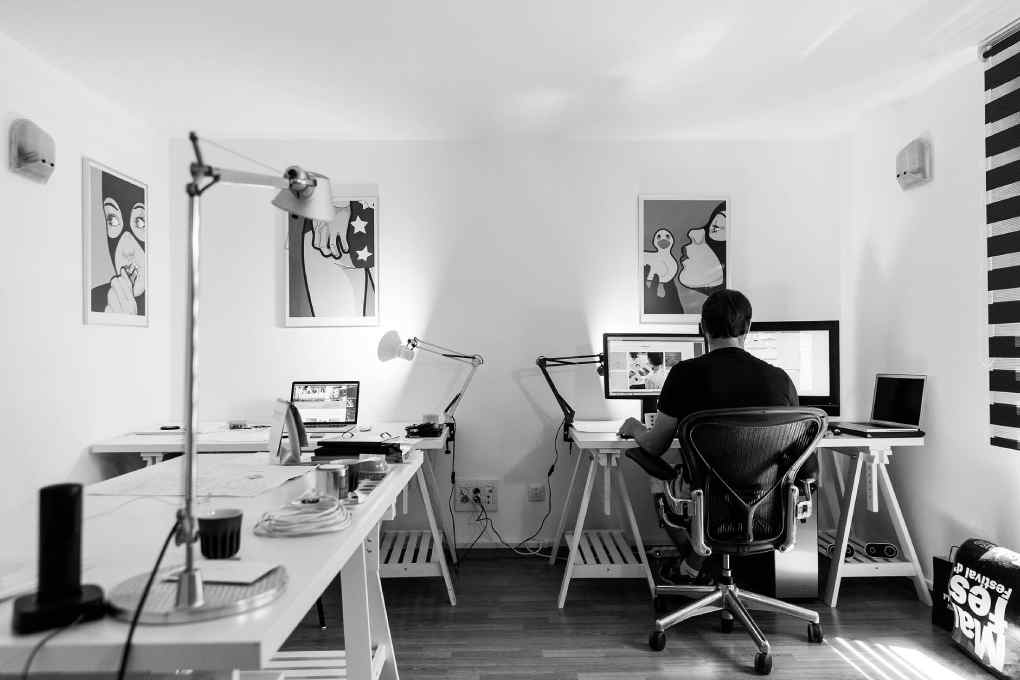 Stay Transparently Connected At Home Too
In many teams, home office, hybrid work and remote work are already integrated into everyday life. Employees value the opportunity to be free to decide where their working day starts from. Working from home is often more focused and productive . The sticking point: Communication with the team often suffers in the home office.
In many cases, the home office is being introduced in authorities and offices – e.g. due to current Corona regulations. Sometimes certain tools for communication are already available – but how does the interaction work so that an efficient workflow is created?
The Spontaneous Chat Is Gone
Who doesn't know it: In the morning in the office, colleagues are greeted or you meet at the coffee machine, where the first exchange of the day takes place. In the home office, on the other hand, it can quickly become lonely because there is no spontaneous chat.
The problem: Despite the distance, many teams continue to work as they did in the office . But the modern or current working world and especially the home office require new rules of the game – especially with regard to communication. New meeting formats are established, a modern workflow is created and a few guidelines should also be defined.
Basics: How Does Communication Work In The Home Office?
Bad communication in the home office does not have to be! But how can the internal exchange also work at home? We will show you which basics are required for communication in the home office. And with which five tips successful communication can be implemented immediately, so that the entire team remains well connected within their own four walls.
Tip 1: Create Uniform Communication Channels
In most offices, communication takes place either face-to-face, by phone or email . This can still work well when working on site – but as soon as part of the workforce is in the home office, these communication channels are no longer sufficient.
Video And Chat Tools
Tools for virtual exchange can be found sufficiently online. When looking for the right tool, you should make sure that you can communicate in chat and meet via video . Popular tools include Microsoft Teams, Slack or Skype .
However, these well-known providers often come neither from Germany nor from the EU, so that the necessary data security requirements cannot be met. In order to ensure data protection at digital conferences as well, the orientation guide from the Berlin Commissioner for Data Protection and Information Security is helpful.
With all tools, there is the option of either chatting with teammates or connecting directly via video conference . Video chat also has the option to split the screen so everyone can see what's being talked about.
The video format also allows you to see the faces of the former table neighbors again and you have the feeling of being in personal contact with your colleagues – even if the others are on the other side of town.
Tip 2: Establish Regular Meetings And New Meeting Formats
Out of sight out of mind: Not only is there no personal contact between team members , superiors and employees are also less in exchange when working from home than when working in the office. For this reason, regular virtual meetings should take place and new types of meetings should be introduced.
Daily: The Start Of The Working Day
Many teams have already introduced the so-called "daily" in their everyday work . To start the day, a short digital exchange via video takes place in the respective teams. Each individual has the opportunity to arrange their to-dos in the first step and then share them with the group. This is also a great chance to prioritize, request help with tasks, and clarify open questions about specific tasks.
Depending on the size of the team, the meeting should be kept as short as possible . Of course, the daily exchange is important, but should not distract from the actual to-dos – a guideline here is about 15 minutes.
Weekly: The Whole Team Meets
The " Weekly " is a suitable meeting format for regular team meetings . In this call, everyone from the department, company or administration has the opportunity to share highlights from the week. These are, for example, things that were particularly exciting, goals that could be achieved, progress in projects or a thank you to a colleague who provided great help.
Due to the "isolation" within your own four walls, the team spirit is lost in many teams . A regular exchange in the form of various meetings helps to maintain this. Despite the distance, there is a sense of togetherness . By the way: Team events can also take place digitally and be designed with suitable games.
Tip 3: Set Rules And Guidelines
A quick call to your teammate at 8 p.m., even though he has long since finished work? In the home office, many employees use the freedom to adapt the working day to their own needs . The colleague likes to start her tasks early in order to fill the afternoon with free time. Whereas the teammate prefers to sleep in and sit at his desk at home late in the evening.
Define Availability And Meeting Times
Even if the working hours are freely selectable, a colleague's closing time should be respected. Calls outside of working hours are also taboo in the home office ! In the team, accessibility and fixed times for meetings and other virtual meetings should be determined from the outset. A kind of home office etiquette – i.e. principles – that is defined from the outset is also helpful.
Tip 4: Optimize Workflow With The Right Tool
In contrast to general voting via chat or video, discussing projects and tasks does not belong in a chat. This quickly becomes confusing for everyone involved, since communication cannot be task-related. Distributing tasks by e-mail – as is the case in many authorities and companies – is also less efficient. Long mail chains and attachments are created that can never be found again.
Tip 5: Digital Leadership Means Leadership At Eye Level
Communication in the home office also requires modern leadership that is open, agile, networking and, above all, at eye level – keyword: equal rights . The so-called digital leader breaks down old structures in administration and companies and develops new working methods in a team , which he implements with the "right" tools. This should prevent individual team members from splitting off as far as possible.
Digital leadership also means that all employees are involved in (important) decisions that were previously often made by just one person. The modern manager imparts digital skills, strategic thinking and collaborative, digital cooperation. The building blocks are primarily trust – especially in employees working from home -, honesty and personal responsibility in the team as well as regular constructive feedback.
The digital leader also has a role model function for all team members – sometimes even across departments. He should therefore exemplify the role of "digital native" for his team and set a good example by integrating appropriate tools into his own working day. So he sets a good example for all employees.
Also Read: Digitizing Processes, Key In Digital Transformation