Multi-Cloud: All business Needs Under One Roof!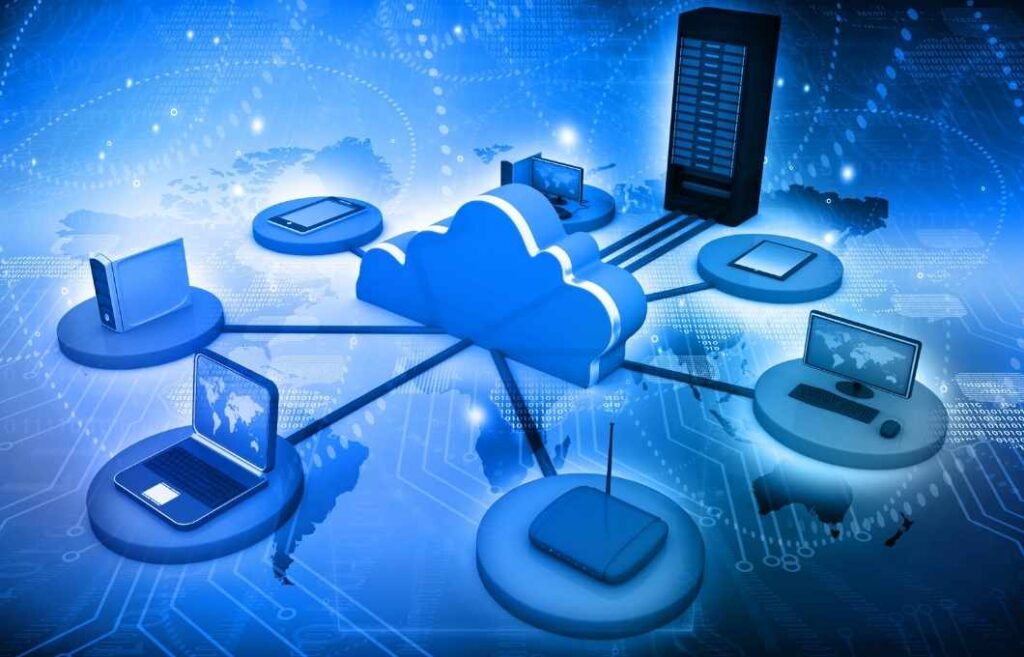 While previously private clouds, public clouds and hybrid clouds were the most popular, multi-clouds are now becoming more and more attractive. The reason: The simultaneous use of different cloud solutions from different cloud providers helps companies to ideally cover all business requirements and use cases without depending on a single cloud provider. In this blog article, find out what other benefits a multi-cloud strategy offers, where multi-clouds and hybrid clouds diverge, and what are the reasons for using multi-clouds these days.
"Best Of Breed" Instead Of "One-Size-Fits-All"!
The distribution and application of cloud services are advancing at a rapid pace.
However, there is not one cloud service or cloud provider who is able to precisely determine all business requirements.
That is why more and more companies in this country are relying on multi clouds.
In a multi-cloud design, the best-performing cloud offerings and cloud platforms from various cloud service providers are selected and used based on business requirements, geographic usability and prices.
A multi cloud can consist of different cloud models and can therefore also include private clouds and public clouds.
The purpose of the multi cloud is to use the services, applications and infrastructures in the cloud environments of several cloud providers at the same time and thus act independently from a single provider.
Multi-Cloud Versus Hybrid Cloud: What's The Difference Between Them?
Although multi clouds and hybrid clouds are based on identical cloud models, the concepts can still be clearly distinguished from one another:
A hybrid cloud consists of components of a private cloud and a public cloud to create a more complex cloud environment. With simultaneous access to both private and public cloud resources, organizations can take advantage of both deployment models. For example, more vulnerable and private files can be backed up in the private cloud, while documents with low data protection requirements can be stored in the public cloud.
A multi cloud, on the other hand, offers even greater scope for action in terms of cloud models and their combination. This means that not only resources from the public cloud and the private cloud can be linked together in the multi cloud, but also infrastructure-as-a-service offers, platform-as-a-service offers and software-as -a-Service offerings from various cloud providers are effectively connected and managed.
Multi-Clouds: Benefits At A Glance
There is a selection of excellent arguments why companies should build on multi clouds:
High Performance, Availability And Reliability
By distributing the workload and data across multiple cloud environments from different cloud providers, companies can improve the performance, availability and reliability of business processes.
Maximum Flexibility
In the multi cloud, companies have the option, according to the business requirements, to use the cloud services that solve the issues in the most proven way. In this way, primarily time-critical cloud services can be provided by local cloud providers with an extremely short deadline, or high-performance business applications can be encapsulated from internal workloads or even storage capacities with the aim of ensuring consistent operational processes overall.
Higher Scalability
In the multi-cloud world, companies can activate or reduce the computing capacity, storage capacity or other cloud services easily and without any problems.
No Vendor Lock-In
Using different cloud services on various cloud platforms avoids being tied to a single cloud provider. If a cloud provider is no longer efficient or a cloud service is no longer performant or available, companies can switch to an alternative cloud provider. This makes multi-cloud an extremely popular infrastructure.
The Other Side Of The Coin
Pursuing the multi-cloud strategy not only has decisive advantages, but also introduces a number of new difficulties. The two most important tasks to be completed are:
Mastering the complexity: The use of multi-clouds increases the complexity in a company. Due to the large number of cloud platforms, the work steps that operational IT has to manage are multiplied. The required minimum of overview and transparency – not to mention the technical expertise – is serious.
Implement comprehensive security precautions: More interfaces usually mean more error possibilities. By using a multi-cloud solution, companies are exposed to a number of possible IT security risks. Therefore, a uniform security concept with sufficient encryption mechanisms and appropriate access controls is a fundamental condition for the use of multi-clouds.
Multi-Cloud: What Needs To Be Considered?
The successful use of a multi-cloud solution requires a holistic view and control over all cloud services used in the respective company. So-called cloud management platforms, or CMP for short, are used to implement this requirement. These help companies to merge and present all cloud providers, cloud services, cloud platforms and cloud versions in a common management area. In the best case, the cloud management platform recognizes and visualizes the entire IT landscape and creates the essential management of all cloud services and IT resources.
Also Read: What Is Cloud Computing, And What Is It Used For?