Agility And Dynamism: That's Why We Need New Work!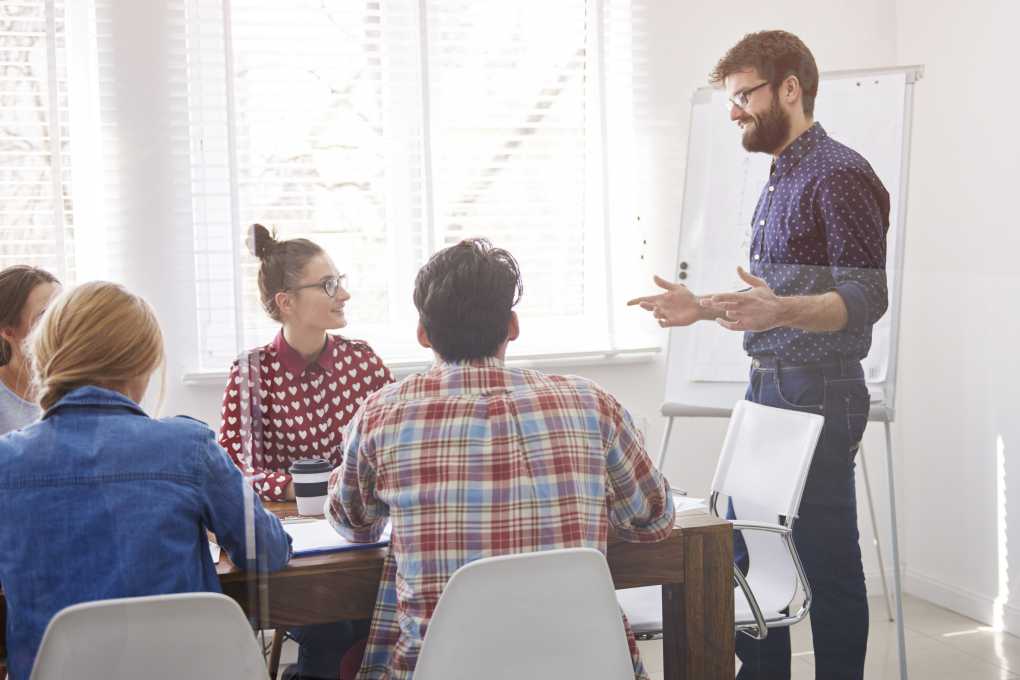 Agility and New Work are currently on everyone's lips. But why do we need new values ​​for the working world, which structures have proven themselves and how does Agility help on the road to success?
Agility: Factory Exceeds All Expectations
We experienced this most clearly in a factory planning project to set up a new production facility for gas turbine burners at the Berlin location. Starting with traditional hierarchies, control mechanisms and detailed long-term planning, we quickly maneuverer into a standstill situation. The success and implementation of the plan seemed impossible. A radical change towards self-organized, agile ways of working, in which the project participants became real entrepreneurs and participants in the cause, turned the tide and ultimately set up a factory that exceeded all planned expectations.
Eye-Level Instead Of Personal Hierarchies
What is the quintessence of New Work?
The core of New Work is difficult to describe in one sentence. It starts at the fundamental level of culture, the often-cited mindset that understands employees and their relationships as equals. Trust, responsibility, entrepreneurship and effectiveness must not be considered empty phrases. Secondly, there are structural differences that make New York what it is.
Traditional personal hierarchies that represent fixed power structures are being replaced by dynamic network structures that take into account the skills and needs of each employee. These forms can be very different and are unique to each organization. Only in the third step do the methods and tools that enable short-cycle, flexible work that consistently adapts to the constantly changing framework conditions come into play.
From our point of view, all this in harmony and the right balance forms what we mean by the term New Work. In summary, it is a chain of events arising from the team. Starting with consciousness, through the organization, to methods and tools that develop organically and evolutionarily.
How Important Is The Mindset For Agile Organizations, And How Did You Anchor It In Yourself?
The mindset or organizational culture is the basis of any transformation towards Agility and self-organization, which is often cited but unfortunately neglected. Our socialization, in the traditional patterns in the context of corporate organization, begins very early in the school system and continues throughout many years of professional life. In private, we are usually much further along.
If we do not take this time for a common understanding and minimum, we will not master the transformation with all the new tools and methods, such as Scrum, Kanban, WOL, Design Thinking, etc. Culture comes before structure. Structures come before methods, tools and processes.
Equal Leadership Is An Important Factor
Can everyone learn this? What tasks will executives have in the future?
Working together at eye level sounds like a matter of course where people interact with each other. Nevertheless, we keep observing that these are being artificially destroyed by existing structures, for example, through mandates in hierarchies. For every healthy person, work and leadership at eye level is not something you have to learn. At most, one has to unlearn the "leadership", which is based on the different values ​​of individuals. This may sometimes be difficult for individuals at first, but in our experience, in the end, everyone involved is more fulfilled, happier and, therefore, more productive.
The role of leadership must be fundamentally rethought. Above all, it will consist of building a stage where everyone involved can act entrepreneurially for a common purpose with the greatest possible freedom. This includes competencies that are already important today:
Moderate to enable communication and collaboration across organizational boundaries
Establish structural protection for the organization.
Demonstrate future strategic scenarios.
However, exploiting power or status privileges will no longer be helpful.
The Role Of Leadership Will Continue To Be Central To Success
Unlike today's rigidly defined, personal leadership role, it can become more fluid and decentralized. It doesn't need to be tied to a person. The environment and tasks of a team are constantly changing. It can be an advantage that the leadership role can be changed by several people, but also dynamically depending on the change.
We can better understand future leadership if we change our perspective and focus on the success of a company in which everyone has an equal share and not the success of the individual.
How Agility Helps On The Road To Success
The path to an agile management culture is very desirable for companies today. But what are the requirements, and what does leadership need in agile times? Sevira Patricia Landsbergis reveals this in an interview.
A thorough analysis of the prevailing organizational structure and the lived or desired culture in the run-up to the introduction of agile structures is often missing. By that, I mean a differentiated examination of what the respective company connects with Agility and wants to achieve. Here one often stays on the surface of terms that are too general and does not work out the fine differences and individual needs that result solely from the very different understanding of Agility.
Agility Must Match The Personalities
In addition, many companies are not aware in advance that the introduction of agile structures automatically flushes everything to the surface that did not work in the previous work and management culture. Therefore, it should be looked at which managers and employees are in the company and to what extent agile structures fit not only the areas of responsibility but especially the personalities and social skills.
It is not enough to train a few methods such as Scrum and Co. Rather, it is about awareness that the successful establishment of agile structures goes hand in hand with intensive, multi-stage learning processes and cannot simply be ordered. If you look for external support here, it should be able to illuminate the work culture and the people with a trained eye and include the insights that are now available in the area of ​​Agility. Calculating professional process support over a longer period of time is essential for the individual learning path that every company follows – there are no blueprints for the successful implementation of Agility. In this way, the course can be set early on so that Agility, with its many positive attributes, enriches a company.
Leadership And Agility
In your opinion, what do executives, in particular, have to consider?
In my process monitoring, I notice again and again that management and executives interpret the self-organization of the employees that Agility strives for in such a way that they simply let their teams do their thing. This is amplified when leadership spans are increased in the org chart—there is even less time for leadership, with an increased number of employees and teams per leader. However, especially in the initial phase, agile work requires significantly more leadership than is apparent at first glance: meaningful framework conditions, orientation, and joint design require a lot of time for ongoing exchange – this is a form of activity that the manager does not carry out in the attitude of an occasional onlooker. Here it is important that executives train through on-the-job coaching,
Agile Leadership Needs To Be Learned
Do you have tips on what constitutes agile leadership and how it succeeds?
In my experience, a central role is understood in which managers support their teams as active reflection partners and professional mentors. To successfully fulfil this role, managers need a high level of willingness to learn and reflect, since in an agile environment, different leadership skills must be used than in the previous structures of "Command & Control". Agile leadership thrives on tapping the knowledge of everyone in the respective context, making it available to everyone and steering the associated interactions in the right direction. To do this, managers must moderate professionally, connect processes and people and act empathetically at eye level. In my experience, very few people can do this "just like that". Thus, a learning culture should be promoted on the company side.
Also Read: How To Properly Prepare The Communication Of Your Company