The Fundamentals Of Business Management In 2023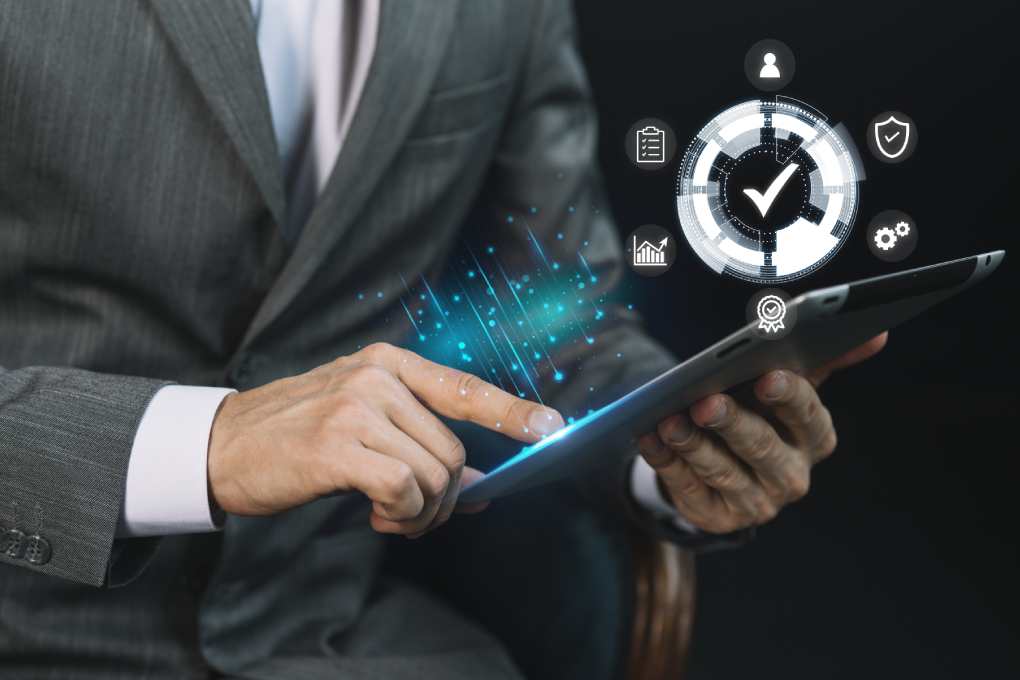 Business management is a complex exercise that requires in-depth knowledge of various disciplines, ranging from finance and marketing to human resource management and growth strategies.
Understanding and mastering these various facets is essential to ensuring any business's long-term viability and success.
Get a detailed overview of these different areas to help you successfully navigate the dynamic world of business management.
The Fundamentals Of Business Management
Definition Of Business Management
Business management is a holistic process encompassing coordinating and controlling an organization's human and material resources.
It involves making strategic decisions, organizing and managing resources, leading and motivating staff, and evaluating the company's performance to achieve its objectives.
Learning to manage your business correctly is essential because this process requires an in-depth understanding of different management disciplines, including management, finance, marketing and human resource management.
Importance Of Management And Organization
Management is the cornerstone of any business, as it directs and coordinates employees' efforts towards the company's objectives.
For its part, an organization is concerned with the structuring and scheduling of company resources and processes.
Together, these elements help ensure the efficient execution of tasks and projects, leading to better overall business performance.
Legal Forms Of Business
The choice of the legal form of a company – SAS, SARL, EURL, etc. – has a considerable impact on its operation, taxation and liability.
Each legal form has its specific requirements and regulations, which is why it is crucial to understand the implications of each type of structure before making a choice.
The Role Of Business Management Training
Need For Business Management Training
A solid education in business management is essential for any professional who aspires to lead an organization.
It provides the skills to make strategic decisions, manage resources, lead teams and evaluate performance.
Such training can take many forms, from short professional training sessions to university degrees in business management.
The Bachelor's Degree In Management: A Significant Asset
The Bachelor of Management is a respected academic qualification that provides a solid foundation in various aspects of business management.

It offers in-depth knowledge of management principles, marketing, finance and human resource management.
This training is a significant asset for those looking to advance into management positions or start their own business.
Management Software For Businesses
Importance Of Management Tools
With rapid technological developments, appropriate management tools have become essential for effective business management.
These tools automate routine tasks, reduce errors and provide valuable analytics for informed decision-making.
They help to efficiently manage various business operations, such as accounting, payroll, sales, customer service, etc.
Management Software: ERP, ERP And Google Drive
ERP (Enterprise Resource Planning) and ERP (Integrated Management Software) systems are integrated management software that facilitates the management of several aspects of the business in a centralized manner.
They help optimize efficiency, improve department collaboration, and provide accurate information in real-time.
Google Drive, on the other hand, is an online document storage and sharing tool that facilitates collaboration and communication between teams, thereby improving operational efficiency.
Accounting And Financial Aspects Of Business Management
Role Of Accounting In Business
Accounting plays a crucial role in running a business. It provides accurate financial information that is essential for making informed decisions.
By recording and analyzing all of the company's financial transactions, accounting helps understand the company's financial health and ensures compliance with tax regulations.
Accountants also play a crucial role in financial planning and budget management.
Importance Of Financial Management
Financial management is an essential aspect of business management. It concerns the planning, organization, direction and control of the company's financial resources.
A good financial manager balances income and expenses, optimizes the use of financial resources, plans investments and financing, and helps achieve the company's long-term financial goals.
Financial management techniques include budgeting, cost analysis, cash flow management, and investment evaluation.
Human Resources Management
Role Of Human Resources In Business
Human resources are the backbone of any business. Their effective management is essential to attract, retain and develop the talent needed to achieve the company's objectives. 
Human resource management responsibilities include:
Employee recruitment and selection.

Training and development.

Performance management.

Compensation and benefits.

Maintaining a positive and productive work environment.
Human Resources Management Techniques
There are many techniques to manage human resources effectively.
This may include using performance management systems to assess and improve:
employee performance,

providing training and development programs to enhance employee skills and capabilities,

and implementing rewards and recognition programs to motivate and retain employees.
Effective human resources management helps create a positive company culture and enhances employee engagement and satisfaction.
Online Presence And Web Marketing
Importance Of Web Presence
In the digital age, having an online presence has become imperative for any business, regardless of its size or sector of activity.
A well-designed, easy-to-navigate website is often the first point of contact between your business and your potential customers.
It provides a platform to showcase your products or services, share information about your business, and directly interact with your customers.
Role Of Web Marketing In Business Management
Web marketing plays a crucial role in increasing the visibility of your business, attracting new customers and retaining existing customers.
It encompasses a variety of strategies, including search engine optimization (SEO), content marketing, social media marketing, email marketing and more.
Done right, web marketing can help increase traffic to your website, improve sales conversions, and build brand awareness.
A complex Area That Requires Advanced Understanding
Business management is a complex field that requires an in-depth understanding of many aspects, from finance and human resource management to marketing and strategy.
As a business manager, it is essential to stay up to date with the latest trends and practices to ensure the success and growth of your business.
Also Read: Business Digital Transformation And Female Leadership